Eurocan was established in 1994 as a UK based supplier of machinery to the worldwide can making and canning industry. Its founder, John Jenner, already had a wealth of experience in can making machinery in both the technical and sales fields, and we have since built on this to become one of the most successful and trusted independent engineering companies in the sector. We aim to offer the highest standard of customer service and are always happy to give impartial and expert advice to customers.

We have a strong presence in the international used equipment market, specialising in machinery of European manufacture for welded can and end production. A significant proportion of these machines are fully rebuilt by our engineers and adapted to suit the customer's exact requirement.

Our range of new equipment, built in-house to high standards, has an emphasis on compound lining and double seaming. The 686 Dual Liner, EF Compound Guns, 1A Can Seamer and TAJ Seamer Tooling are employed in factories worldwide by multinational and smaller independent companies alike.
Engineering Skills
Our assembly and rebuild workshop is a comprehensive facility for machine building and engineering, and we can manufacture or replicate to a high standard a wide range of machine components, from a part designed by Continental Can in the 1950's to a state-of-the-art vacuum-hardened stainless steel seaming chuck with chemically applied Titanium Nitride coating.
Can Seaming
Our single-head 1A Can Closing Machine replicates the rotating can seaming process of fully automatic multi-head seamers, and has proved very popular for low speed semi-automatic production and laboratory work. Formerly produced for many years by The Metal Box Company, we re-launched this model thanks to its continuing popularity and the scarcity of used machines.
Our engineers have many years experience in seamer rebuilds and conversions for the food industry. We have rebuilt and converted seamers for varied applications. Whether your requirement is for a metal, paper board or PET container, in an atmospheric, steam-flow, vacuum or nitrogen environment, we can engineer the solution you require.


TAJ Seamer Tooling has been manufactured in the UK from 1966. Since acquiring the product range in 2003, we have continued to concentrate on manufacturing competively priced, good quality traditional tooling using modern production and processing technologies. We offer possibly the shortest lead times available, and are pleased to accept orders for a single roll or chuck, or multiple sets of tooling.
We maintain a large inventory of new and used change parts, tooling and spare parts for Metal Box seamers. All items are catalogued by part number and description from the original machine manuals.

Our engineers can service and repair your seaming machines, as well as instructing your staff in their use and in the technology of double seaming.
Compound Lining
The Eurocan 686 Dual Liner is a high-speed dual lane machine for the application of water-based and solvent-based compound on tinplate ends. It builds on a worldwide reputation for durability and reliability founded by the original Grace design manufactured by FMC in Belgium. All component parts and tooling sets are interchangeable with the Grace model. The machine is designed for use with Eurocan EF electronic compound guns or Grace EP electro-pneumatic compound guns.


The EF Electronic Compound Gun System offers unparalleled accuracy and efficiency for the application of solvent-based, water-based and plastisol compounds to can ends, caps and closures, using its unique dual electro-magnetic function. Universally adaptable for any single or dual lining machine, we offer a complete retrofit package with on-site installation, commissioning and training assistance if required.
Our engineers can fully rebuild most makes and models of single or dual lane lining machine and if required fit them with our EF electronic compound guns.
We also supply accessories such as compound pumping and heating systems, and carbide compound nozzles in several diameters for superior wear resistance, increased strength, and chemical inertness.
45PS Plate Shredder
Packaging manufacturers have a responsibility to protect the integrity of their customers' designs and trademarks, and to eliminate the possibility of them being copied to produce counterfeit goods. Packaging printers must be especially alert to the risk of uncontrolled disposal of printing plates, which provide the perfect opportunity to produce fake brand packaging. The Eurocan 45PS Plate Shredder was designed specifically to address this issue, and allows the controlled destruction of redundant printing plates, giving every packaging printer a simple solution to safely destroy plates with the integrity of an automatically recorded time and date stamp.
Used Can Machinery
Whether buying or selling, Eurocan is the solution provider. Now concentrating on brokering the sale of used can machinery direct from plants and factories in the UK and overseas, a strategy which provides buyers the opportunity to see equipment running in production, and realises a better asset value for the original owner.
We welcome the opportunity to inspect and audit your surplus machinery, and to provide valuations for preparing future capital expenditure programs.
Safety Guarding & Electrics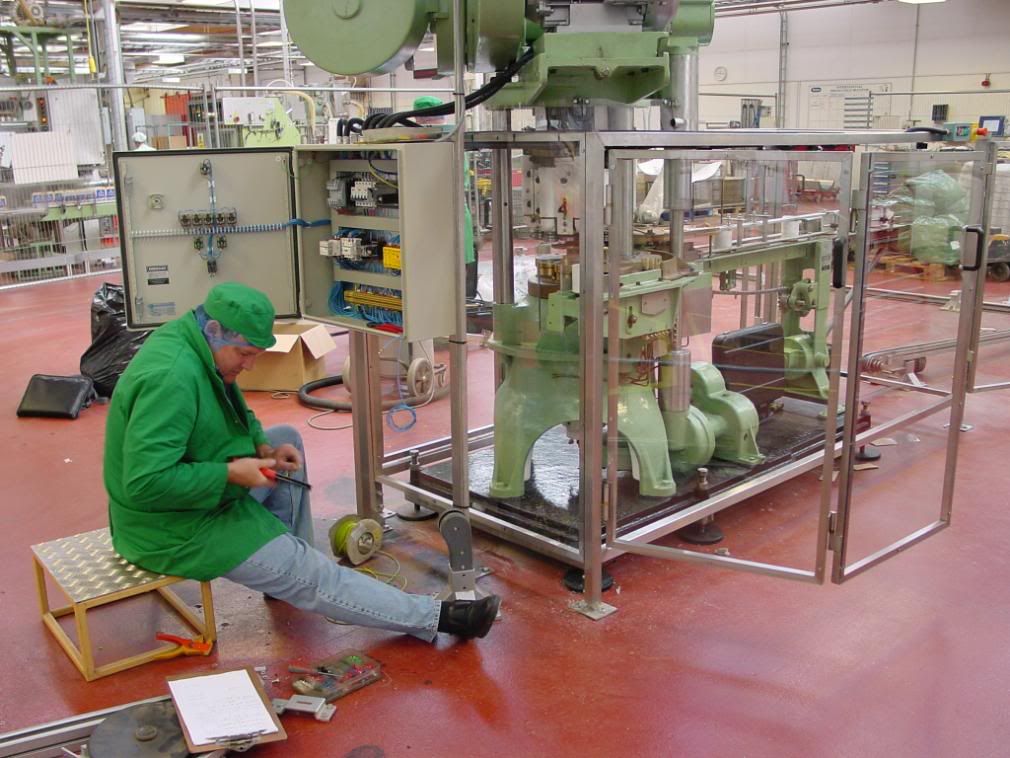 A common issue with used machinery is the conformity and compatibility of the safety guarding and electrical controls to current H&S standards. We have a wealth of experience in designing and manufacturing new guards and control panels in accordance with European standards, and supplied with a CE Mark and an EU Declaration of Conformity.
Production Line Removal
We have undertaken many projects both in the UK and abroad to remove redundant production lines. In most cases we have successfully sold the line while still in situ, and our engineers have taken charge of decommissioning and dismantling the machines and loading them onto the buyer's transport.
Freight Services
It takes specialist knowledge to pack and transport large machinery safely around the world. With our trusted freight partners we provide a complete service including export crating, container loading and bracing, road, sea or air freight, and all necessary export and import documentation.
Commercial Solutions
Our commercial team have created a whole package of options for you to consider, including part exchanges, short term rentals, long term leases, financing and outright purchases. We deal in sterling, dollars or euros and accept payment by BACS, CHAPS, SWIFT, credit or debit card and documentary credit.